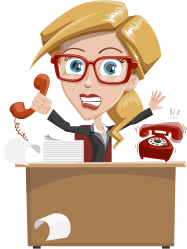 Are phone calls driving you crazy? Are you coping with the phone message madness?
How would you like to conquer the chaos?
How would you like to be able to manage your phone messages quickly and easily without all of the stress?
Life is busy busy busy.
And let's face it. It's probably only going to get even busier.
Keeping on top of everything is getting harder and harder. There's always so much to do.
If your office is like most offices, the phone always seems to be ringing. There are so many calls to handle.
How do you keep track of all of those calls? How do you keep on top of it all?
Well there are sticky notes or pieces of paper. You could use those.
Of course, they do tend to get lost, misplaced, get stuck to other things or simply disappear to the place where all of the missing sticky notes go. Probably the same place the missing socks go to.
And there's the problem of "the scrawlers". You know, those people who only write in ancient Sumerian or an undecipherable code that would take a super computer to translate. Maybe you're a scrawler and nobody can read your messages. Shhhh, your secret is safe with us.
What if there was a piece of software that would make it easy to log phone calls, make it easy to read the messages, make it easy to track them, make it easy to follow them up, and make it impossible to ever lose them?
What if that software also saved you time and money?
And what if the creators of that software said to you "Don't you deserve to have less stress? We want you to try our software out for free for 60 days so you can see for yourself how much it will change your life"?
And what if they said that they would provide full support during the trial period, and of course afterwards if you decided you like it enough to buy it?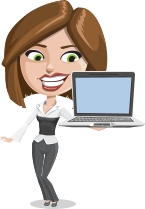 And what if that software paid for itself in the first week or two?
And what if you could get a hold of that software right now!
Well you can. Just click the Download button below and get started today.