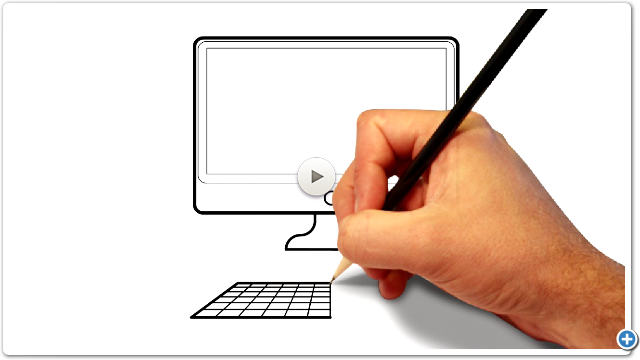 The Easy Way to Manage Your Phone Calls
It's time to get rid of those paper-based telephone message pads and replace them with something much more efficient.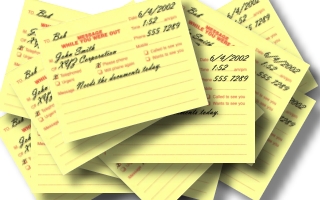 PhonePad completely replaces your paper telephone message pads with an easy-to-use Windows application. No more returning to find a pile of telephone message slips spread all over your desk or stuck all over your PC's monitor. No more losing messages.
All of your phone messages are easy to find as they are stored in one location: your PhonePad Inbox. Icons and color coding are used to provide instant recognition of message status.
At a glance you can see which messages are new, which ones have been read, which messages you need to follow up, etc. The status bar shows how many messages you have in your Inbox, how many have been read and how many are unread.
Easy to Use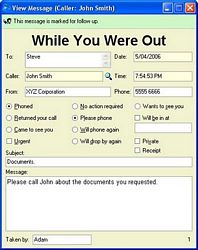 Have you ever had to try and decipher the details on the message slip? Ever try to work out what the phone number is only to find out that it's a wrong number because the 1 looks like a 7 and you're not sure if that's an 8 or a 9.
PhonePad makes it so easy. Many time saving features have been built in. In most cases it is simply a matter of point and click. PhonePad will remember details of previous callers and automatically fill them in for you.
No more searching for pen and paper when the phone rings. No more writing down the same caller details over and over again. No more worrying about getting a phone number wrong. No more running around the office delivering messages.
Messages have been designed to mimic the paper-based message pads, providing a more intuitive interface and making it easy for users to migrate to PhonePad. So that you can emphasize important information, messages support text formatting (different fonts, styles, colors and sizes).
Multiple messages can be open simultaneously, allowing you to easily write and/or read a number of messages at the same time.
PhonePad also supports text messages, so in addition to telephone messages you can send free form text messages.
PhonePad has a built-in Spell Checker providing live spell checking and manual checking options. Dictionaries for a number of languages are included.
Message Filtering
The Inbox features message filtering so you can display just the messages you want to see, eg. all read messages, all unread messages, all uncompleted followups etc.
Send Messages to Multiple Users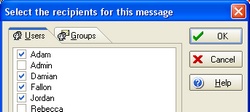 Phone messages aren't limited to just one recipient. You can send them to as many people as you want.
You can even set up distribution groups so messages can be sent to teams. For example, if you have sales staff, you can send product enquiries to the sales team so that you can be sure someone will respond to the call quickly!
Messages can be addressed using the drop-down To list which features incremental searching. Just start typing a name and PhonePad will find it for you. Or you can use the popup To box and select users by checking the check boxes.
Built-in Address Book
PhonePad can remember the details of previous callers for you, avoiding the need to re-enter the information when they call again. As you enter a caller's name, PhonePad checks to see if they exist in the Address Book and will fill in the rest of the details for you. This will save you a massive amount of time. It can also automatically update a caller's details when they change.
You can store a whole host of information in PhonePad's Address Book. From business, postal and home addresses to multiple phone numbers, email addresses and even websites. The Address Book can even import your contacts from Microsoft Outlook™, and it can export them back to Outlook™ as well. You can also import and export Address Book entries from and to files.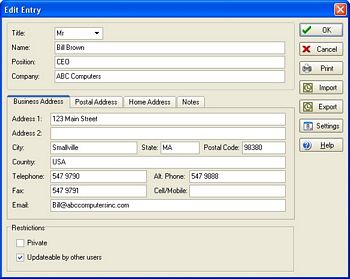 Keep Your Messages Safe and Secure
With paper phone messages there is absolutely no security. Anyone who walks past your desk can read the messages you have received. PhonePad keeps all of your messages neatly together in your Inbox, secure and away from prying eyes.
PhonePad is password-protected so no-one else can read your messages (unless you want them to), and your messages are stored in an encrypted database.
Easily Organize Your Phone Messages
Messages you want to keep can be left in your Inbox or organized into personal folders. Or if you want others within your company to be able to access the messages you can also setup public folders. PhonePad keeps all of the messages you have taken in the Sent folder.
Notification As Soon As Messages Arrive

You'll always know when you have received a phone message as PhonePad will alert you straight away using a variety of methods: popup messages, flashing taskbar and system tray icons, message balloons, customizable sounds, etc. PhonePad comes with 8 sounds and you can easily add your own.
Never Forget to Return a Phone Call
It's one thing to get your phone messages but what if you forget to return the calls? Well, we've thought of this too. PhonePad's follow up feature will remind you of calls you have and haven't returned. You can mark messages for follow up and check them off when they've been done. You can add notes about when calls were returned, what was said, etc. The follow up feature can also work with distribution groups. When someone follows up a call, it can be marked as done for all recipients
Ideal for Receptionists

Receptionists can quickly and easily take messages for staff and send them to their Inboxes, so that their messages are waiting for them when they return. You can give Receptionists access to other user's Inboxes so they can check messages for staff that phone in, and you can control which Inboxes they can access.
Get Messages When You're Away From the Office
With PhonePad's Automatic Message Forwarding feature, you can have your messages sent to an email address or mobile/cell phone when you're away from the office.
Install PhonePad on your home PC or laptop and you can check your messages over the Internet via a secure encrypted connection, whether you're ill, working from home, or on the road! This is also ideal for remote offices.
Text Messages
In addition to telephone messages, you can also send free form text messages.
Check Staff Availability at a Glance
PhonePad includes a built-in In-Out Board that provides an easy way to check staff availability. Users can quickly and easily set their status, as well as provide and indication of when they'll be back. They can also leave notes and setup Automatic Message Forwarding.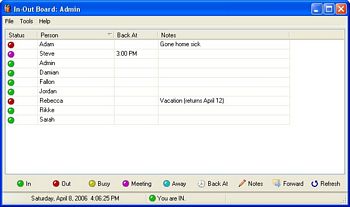 Plus Lots More Features
We've covered the main features, but there are a lot more. For a more comprehensive list, check the PhonePad Features page (or use the link bar on the left).
Get PhonePad Now - You'll Wonder How You Managed Without It
Once you start using PhonePad, you'll never want to go back to paper phone message pads! Just download and install it, and start benefiting from paperless phone messages. You're not going to believe how much of a difference this is going to make.
Try PhonePad out for yourself - for FREE!
We know you're going to love PhonePad. But we don't expect you to buy it without at least having a look at it. We want you try out PhonePad for yourself so you can see first hand just what it can do for you. We offer you a 60 day evaluation period. No strings attached!
That's two whole months of using PhonePad free of charge! This is not a gimmick. It's how we do business. You get to try PhonePad for 60 days without any obligation whatsoever. Then, if you really like it order a license. Licenses start from just $95 for 5 users.
You can use PhonePad in earnest because you won't lose any data when you buy a license. All of your data will remain intact when you switch over from evaluation to fully licensed.
Of course, you don't have to wait until the evaluation period expires before purchasing a license. You can do that at any time. That's up to you. But we encourage you to take full advantage of the free evaluation period.