If you need to repair the PhonePad database, you will first need to shutdown PhonePad.
Shutting Down the PhonePad Database in Local Mode
Click the Shutdown button on the toolbar, select Shutdown Database from the Tools menu, or click on Shutdown Database on the taskbar.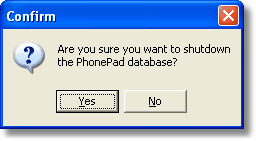 Click the Yes button to shutdown the PhonePad database. The database status indicator on the status bar will change to red and the following message will be displayed:
All PhonePad users currently logged in will receive a message informing them that PhonePad will shut down in 5 minutes. Once this period has expired, any users still logged in will be immediately logged out of PhonePad.
Any user attempting to login while PhonePad is shut down will receive the following message: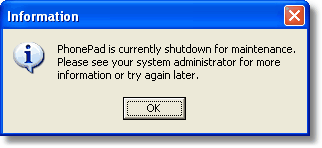 Shutting Down the PhonePad Database in Remote Mode
Go to the computer the PhonePad Server (DBServer) is running on and run ServerManager. Select Server Information, then click Stop Server to stop the server.