The Label Editor allows you to customize some of the labels used for phone messages.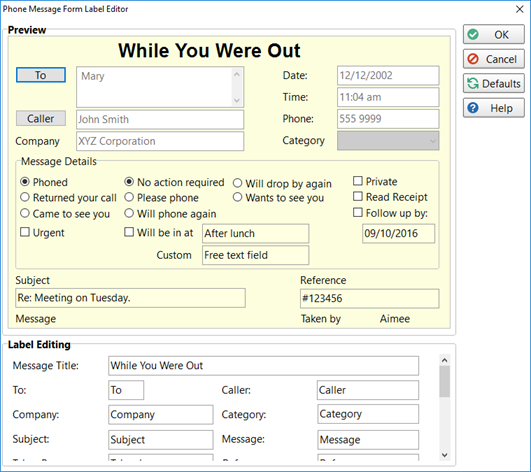 The top half of screen, which looks like a phone message, is a preview of any changes you make. As you change the various labels, the preview will update in real time. You don't need to add the colons ( : ) as these will be automatically inserted.
To save your changes, click the OK button. To cancel you changes, click the Cancel button.
| | |
| --- | --- |
| OK | Saves your changes. |
| | |
| Cancel | Cancels your changes. |
| | |
| Defaults | Resets all labels to their default settings. |
| | |
| Import | Imports custom labels from the Labels.ini file (if it exists). |
| | |
| Help | Displays online help. |
| | |
| --- | --- |
| | The built-in Label Editor in PhonePad Admin replaces the separate editing utility previously available. Instead of using a LABELS.INI file, your custom labels are now stored in your PhonePad database. |